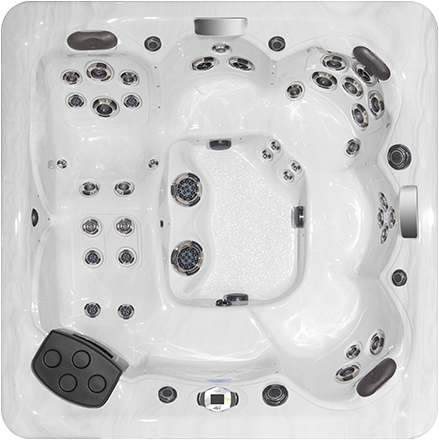 Twilight Series TS 8.2
Call 734 668-7665 for more information and assistance with any of our hot tubs and swim spas.
TS 8.2 SPA FEATURES:
Orion Light System*
Waterfall
Lounge
Neck and Shoulder Seat
EcoPur Filter
BioMagnetic Therapy
Low Maintenance
Energy Efficient
* Illuminates the cascade waterfall and topside controls.

TS 8.2 SPA OPTIONS:
FUSION SOUND SYSTEM
Every Twilight Series spa may be equipped with an optional sound system to provide rich, beautiful sound.

WI-FI MODULE
Remotely control the operations of your spa via an optional integrated Wi-Fi module that works with the Balboa Water Group Wi-Fi Spa Control App.

AFTERGLOW JET PACKAGE
Illuminates the larger crystal-like jets in your spa.

QUIETFLO WATER CARE SYSTEM
Our advanced energy-efficient circulation pump enhances the purity of the water.

MAST3RPUR™ WATER MANAGEMENT SYSTEM
A synergistic blend of three proven natural water sanitizers that when combined makes them dramatically more effective through a chemical reaction known as Advanced Oxidation Process. This results in clean, clear, fresh smelling, and silkier water. The Mast3rPur option is only available on spas equipped with the QuietFlo Water Care System.

VAC FORMED ABS PAN BOTTOM
Finishes the frame with a vac formed, high density ABS base that helps keep the heat in and unwanted pests out.

TS 8.2 SPA SPECIFICATIONS:
Dimensions: 94″ x 94″ x 38″
Weight, Dry: 11,065 lbs (483 kg)
Weight, Full: 5,345 lbs (2,424 kg)
Gallons: 380
Pumps: 2
Filtration: EcoPur®
Number of Jets: 44
Master Blaster: 2
Seating Capacity: 6
Water Features: 3
LED Lighting: Orion Light System™
Noise Reduction: Standard
Cushioned Head Rests: 3

SHELL COLORS:
Blue underline indicates premium color.

Color: Sterling Silver

Color: Sierra

Color: Midnight Canyon

Color: Tuscan Sun

Color: Storm Clouds

Color: Oceanwave Opal

Color: Cameo

Color: Silk

Color: Winter Solstice

SKIRTING OPTIONS:
Blue underline indicates premium color.

Color: Portabello

Color: Espresso

Color: Walnut Grove

Color: Driftwood

Color: Desert

Color: Granite

Color: Ultra Black