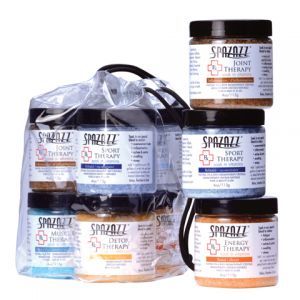 SpaZazz Rx Therapy 6/pk
Pickup available at Ann Arbor
Usually ready in 24 hours
Ann Arbor
Pickup available, usually ready in 24 hours
5204 Jackson Rd.
Ste B
Ann Arbor MI 48103
United States
(734) 668-7665
The perfect way to try the benefits of the entire Rx line. Set of six assorted Rx formulas in 4oz jars.

Assortment varies and cannot be chosen.

Muscle Therapy - Achy? Soothe & comfort sore muscles with this hot'n icy blend.

Joint Therapy – Feeling sore? Submerge yourself in this unique therapeutic blend, created to reduce inflammation and boost circulation.
 

Respiratory Therapy – Congested? Clear your head and breathe easy with this purifying upper respiratory blend. 

Sport Therapy - Overworked ? Submerge yourself..... for fast relief to the body after intense physical activity in this sports blend.
Sleep Therapy
- 
Trouble sleeping? Relax and clear your mind and body with Sleep Therapy as you soak in the stress relieving sleep inducing blend of all natural aromatherapy. 
Stress Therapy
- Feeling stressed? Relax and clear your mind and body as you soak in our stress relieving blend of all natural aromatherapy.

Detox Therapy - 
Detoxify your body and eliminate built-up toxins with our own special blend of aromatherapy. Detox therapy is specially designed to purify your system from the outside in. Relax and sooth away those aches and pains while you rejuvenate that healthy glow! 


Energy Therapy
- 
Need a pick up or boost? Rejuvenate by soaking away those aches and pains by using our Energy Therapy blend of therapy crystals. Perfect for reinvigorating after a long day or even for getting the day started. Either way, it works great when you need a boost!


Naked Therapy - 
Sensory Overload? 
Submerge yourself...to experience bare minerals in a therapeutic vitamin blend while revealing your healthy natural glow.
 

Happy Therapy - 
Feeling blue? 
Submerge yourself...for pure happiness in the hot tub. Soak away your worries in our fresh therapeutic blend of pure bliss. 

Skinny Soak Therapy - 
Tighten and firm up your body with this cellulite dissolving blend of relaxing aromatherapy! Maintain that sleek firm look as you soak away those extra fluids and cellulite. You cannot go wrong with rich minerals and vitamins! 
Scent is nice but...
The scents are a nice add to the spa but the 4 ounce jars aren't large enough for our 350 gallon tub. Probably need 5 or 6 ounces to really have an impact. Also need to develop one that lasts a little longer as well.
Thanks for trying the SpaZazz sample pack. Appreciate the feedback, Darrin! There are full size bottles available once you find the scent you like the best.