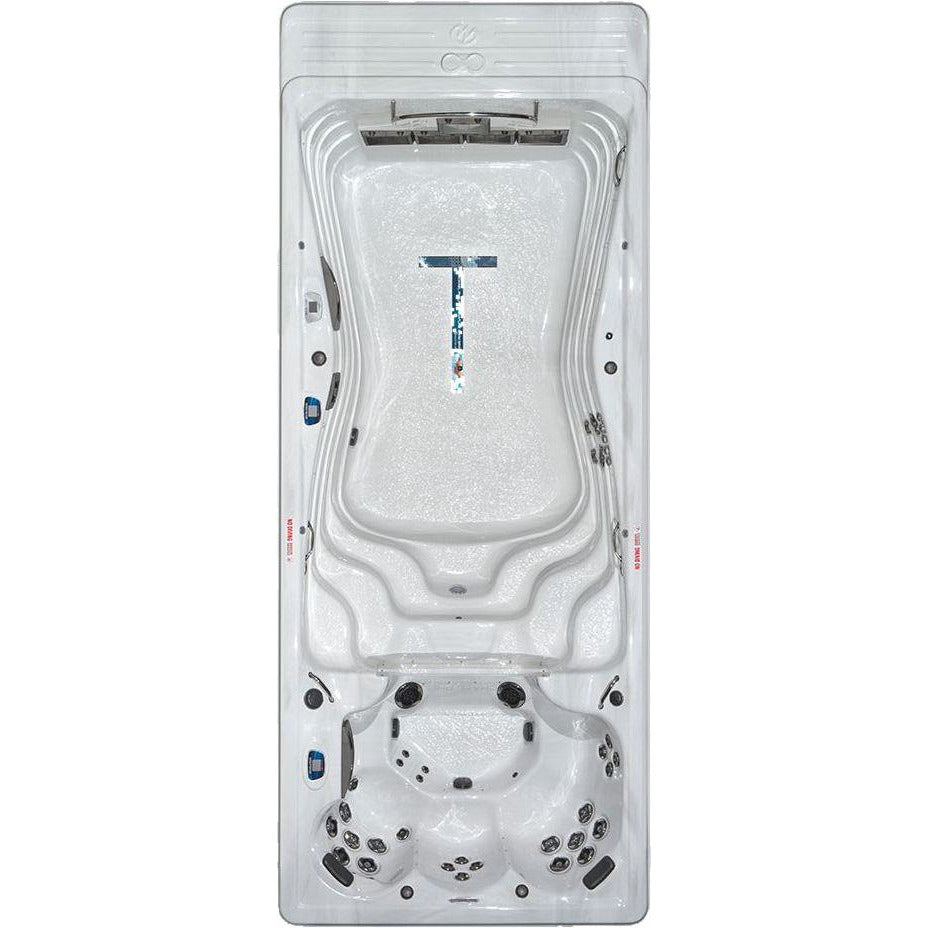 MP Momentum Deep Swim Spa
Call 734 668-7665 for more information and assistance with any of our hot tubs and swim spas.
As the largest and deepest domestic swim spa available, the MP Momentum Deep by Master Spas features the Wave Propulsion™ Technology System for a deeper, wider, smoother water current that is adjustable for individual resistance levels.

On the other side, a full-size hydrotherapy hot tub with 36 jets and ergonomic seating designed to give your mind, body, and spirit a thorough rejuvenation. Enjoy a swim with water set to a personal comfort zone in the 80's, then settle into the hot tub side with the hydrothermal therapy set up to 104°.

Get in and say hello to a whole new level of physical and mental fitness. This is where the sweet spot of a swim spa meets the power of a hydrothermal therapy hot tub. Where the benefits of both are joined to satisfy self-discipline and self-indulgence alike. This is the MP Momentum™ Deep by Master Spas — the best home spa experience of your life.

MP MOMENTUM DEEP SWIM SPA STANDARD FEATURES:
Sleek, European-inspired styling allows for a smoother swimming experience than other swim spas
Wave Technology Propulsion System
Dual Temperature Settings for swim and spa sides
Spa and swim sides separated with custom styled lighted clear acrylic wall
2 Xtreme Therapy Seats
2 MasterBlaster™ Foot Massage Jets
Xtreme Therapy Cove
Low Maintenance
The most energy efficient swim spa you can buy
MP MOMENTUM DEEP SWIM SPA OPTIONAL FEATURES:
Deluxe Fusion Sound System
Deluxe Fusion Air Sound System
Mast3pur™ Water Management System
Wi-Fi Module
Wave Technology XP Upgrade
AfterGlow Lighted Jets on spa side
Underwater Camera
Powder Coated Box Steel Frame
36″ 4-Tier DuraMaster Polymer Step (Available in Portabello, or Espresso)
Deluxe Quad-Fold Tapered Cover available in Slate Brown or Charcoal
MP MOMENTUM DEEP SWIM SPA SPECIFICATIONS:
Dimensions: 231″ x 94″ x 60″
Water Depth: 4′ 6″
Gallons: 2,325
Weight, Dry: 3,700 lbs (1,678 kg)
Weight, Full: 24,205 lbs (10,979 kg)
Pumps: 3
Jets: 45 Stainless Steel Jets
          + 2 Master Blasters™
Water Features: 7
Ozone System: Standard
Filtration: EcoPur®
LED Lighting: Waterline
Exclusive Features: Noise Reduction System
Accessories: H2Xercise System*

* Free with warranty registration
SHELL COLORS:

Color: Sterling Silver

Color: Sierra

SKIRTING OPTIONS:
Blue underline indicates premium color.

Color: Portabello

Color: Espresso

Color: Walnut Grove

Color: Driftwood