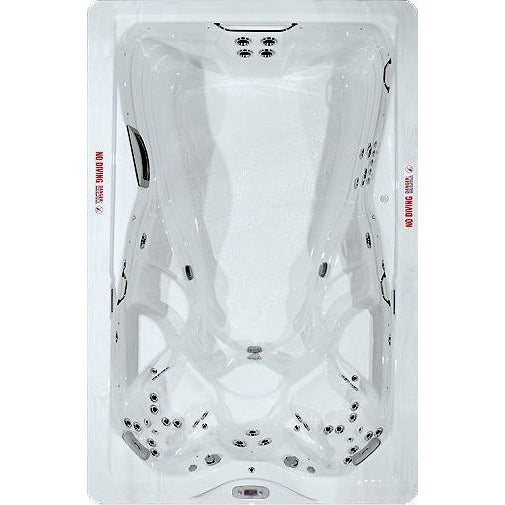 MP Force Swim Spa
Call 734 668-7665 for more information and assistance with any of our hot tubs and swim spas.
The MP Force Swim Spa is 16′ 9″ long – the perfect length for serious swimmers, and for families looking for the perfect fun center. Experience water to the Xtreme.
MP FORCE SWIM SPA STANDARD FEATURES:
Sleek, European-inspired styling allows for a smoother swimming experience than other swim spas
Wave Technology Propulsion System with adjustable controls
1 Xtreme Therapy Seat
Xtreme Therapy Cove
Low Maintenance
The most energy efficient swim spa you can buy
MP FORCE SWIM SPA OPTIONAL FEATURES:
Deluxe Fusion Sound System
Deluxe Fusion Air Sound System
Mast3pur™ Water Management System
Wi-Fi Module
Wave XP
Underwater Camera
Powder Coated Box Steel Frame
36″ 4-Tier DuraMaster Polymer Step (Available in Portabello, or Espresso)
Deluxe Quad-Fold Tapered Cover available in Slate Brown or Charcoal
MP FORCE SWIM SPA SPECIFICATIONS:
Dimensions: 201″ x 94″ x 51″
Water Depth: 3′ 9″
Gallons: 1,660
Weight, Dry: 2,490 lbs (1,129 kg)
Weight, Full: 17,075 lbs (7,745 kg)
Pumps: 2
Jets: 39 Stainless Steel Jets
Water Features: 5
Ozone System: Standard
Filtration: EcoPur®
LED Lighting: Waterline
Exclusive Features: Noise Reduction System
Accessories: H2Xercise System*

* Free with warranty registration
SHELL COLORS:
Color: Sterling Silver

Color: Sierra

SKIRTING OPTIONS:
Blue underline indicates premium color.

Color: Portabello

Color: Espresso

Color: Walnut Grove

Color: Driftwood