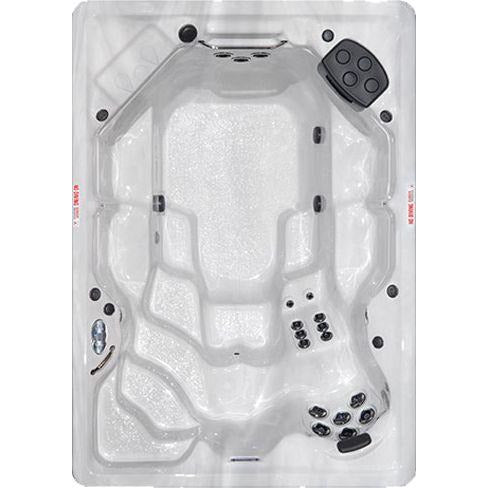 H2X Therapool SE
Call 734 668-7665 for more information and assistance with any of our hot tubs and swim spas.
THERAPOOL SE SWIM SPA SPECIFICATIONS:
Dimensions: 132″ x 94″ x 51″
Gallons: 925
Weight, Dry: 1,410 lbs (640 kg)
Weight, Full: 10,235 lbs (4,643 kg)
Pumps: 2
Jets: 18 Stainless Steel Jets
          + 3 Flow Stream Jets
Waterfall: 1
Ozone System: Standard
Filtration: EcoPur®
LED Lighting: Colorscape
Exclusive Features: Noise Reduction System
Accessories: H2Xercise System*

* Free with warranty registration of your spa.

THERAPOOL SE SWIM SPA OPTIONS:
DELUXE FUSION BT SOUND SYSTEM
An available option on any H2X Swim Spa, the Deluxe Fusion BT Sound System has a rugged design and water resistant housing that includes a docking station, FM tuner, USB connector, 3.5 mm connector and Bluetooth technology.

WI-FI MODULE
Remotely control the operations of your spa via an optional integrated Wi-Fi module that works with the Spa Control App.

SHELL COLORS:
Blue underline indicates optional color.

Color: Sterling Silver

Color: Sierra

SKIRTING OPTIONS:
Blue underline indicates premium color.

Color: Portabello

Color: Espresso

Color: Walnut Grove

Color: Driftwood