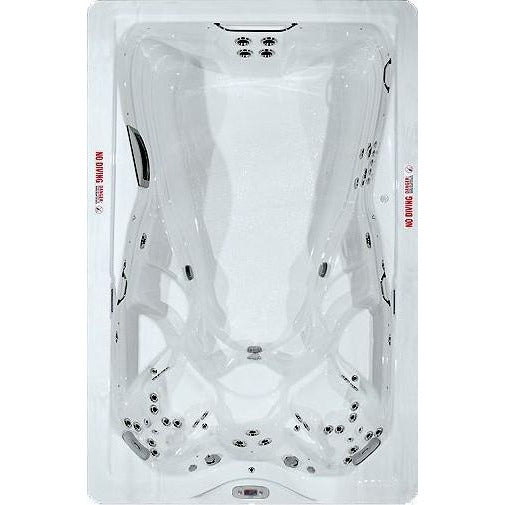 H2X Trainer 19 Deep
Call 734 668-7665 for more information and assistance with any of our hot tubs and swim spas.
The Trainer 19D Swim Spa is the deepest dual temperature model in the H2X line. It features 2 separate bodies of water: one for the perfect warm hot tub experience of relaxation and hydrotherapy, and one for the cooler exercise/pool experience*. It is 5 ft. depth provides increased buoyancy and endless options for family fun.

* Including free hydro-fitness equipment with warranty registration of your spa.
TRAINER 19D SWIM SPA SPECIFICATIONS:
Dimensions: 231″ x 94″ x 60″
Gallons: 2,285
Weight, Dry: 3,215 lbs (1,458 kg)
Weight, Full: 23,385 lbs (10,605 kg)
Pumps: 4
Jets: 44 Stainless Steel Jets
          + 4 VIP Jets
Waterfalls: 5
Ozone System: Standard
Filtration: EcoPur®
LED Lighting: Waterline
Exclusive Features: Noise Reduction System
Accessories: H2Xercise System*

TRAINER 19D SWIM SPA OPTIONS:
DELUXE FUSION BT SOUND SYSTEM
An available option on any H2X Swim Spa, the Deluxe Fusion BT Sound System has a rugged design and water resistant housing that includes a docking station, FM tuner, USB connector, 3.5 mm connector and Bluetooth technology.

WI-FI MODULE
Remotely control the operations of your spa via an optional integrated Wi-Fi module that works with the Spa Control App.

MAST3RPUR WATER MANAGEMENT SYSTEM
This water management system is a synergistic blend of three proven natural water sanitizers that when combined makes them dramatically more effective through a chemical reaction known as Advanced Oxidation Process. This results in clean, clear, fresh smelling, and silkier water. The Mast3rPur option comes equipped with the QuietFlo Water Care System, a 24-hour circulation pump.

AFTERGLOW JET PACKAGE
The Afterglow Jet Package illuminates the larger crystal-like jets in the hot tub side of the Trainer 19 and Trainer 19D.

SHELL COLORS:
Blue underline indicates optional color.

Color: Sterling Silver

Color: Sierra

SKIRTING OPTIONS:
Blue underline indicates premium color.

Color: Portabello

Color: Espresso

Color: Walnut Grove

Color: Driftwood